Description
DXF Lipo Battery 3S 11.1V 5200MAH 100C Blue Series Graphene lipo Hardcase with Deans Plug for Rc 1/8 1/10 Buggy Truck Car Off-Road Drone
ABOUT DXF
DXF is one battery brand of Shenzhen SKT Technology Co., Ltd Company founded in 2016, is a leading manufacturer of RC LiPo Battery based on Shenzhen China.DXF
Batteries offer an excellent value by providing factory direct pricing and quality that meets or exceeds that of other major battery manufacturers. All of DXFbatteries comply with RoHS and CE quality testing standards.DXFonly  use Grade A cell.  DXFwhich is the Fans hobbyking town. DXFwill support you ultimate experience service.
Description
11.1V 5200mah  100C Graphene Blue Series lipo Hardcase size: 138*47*37mm weight: 575g
PackageList:
2PCS 100% new  11.1V 5200mah 100C

Blue

series Deans Graphene lipo
Hardcase
Note: if you need some custom Plug, you could order the battery and make a note whichPlug you need.
Caution:
Don't over charge more than 4.2V and dont over discharge below 3.7V
Don't put it beside the high temperature condition.
Don't throw it into fire.
Don't throw it into water.
Easy  way to check your lipo battery Capacity  of currently status :
4.20V----100%
3.85V----50%
3.75V----20%
3.70V----10%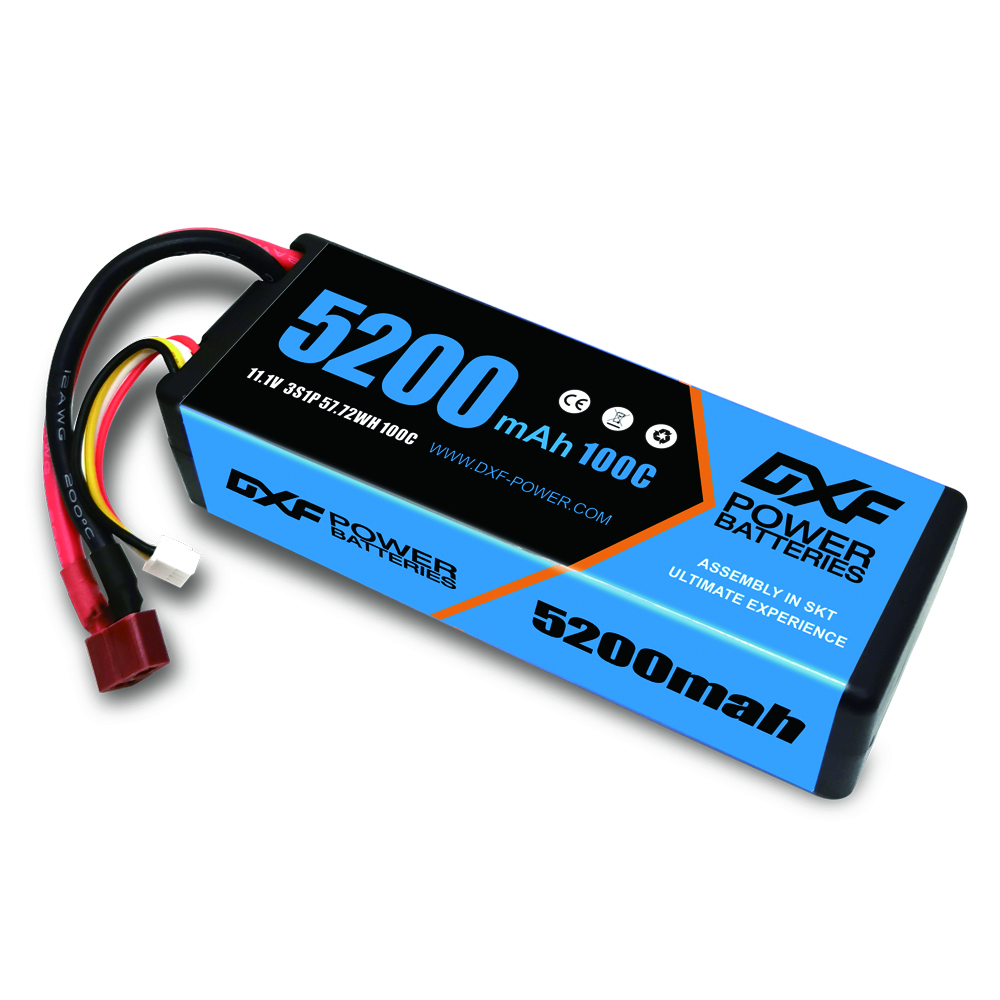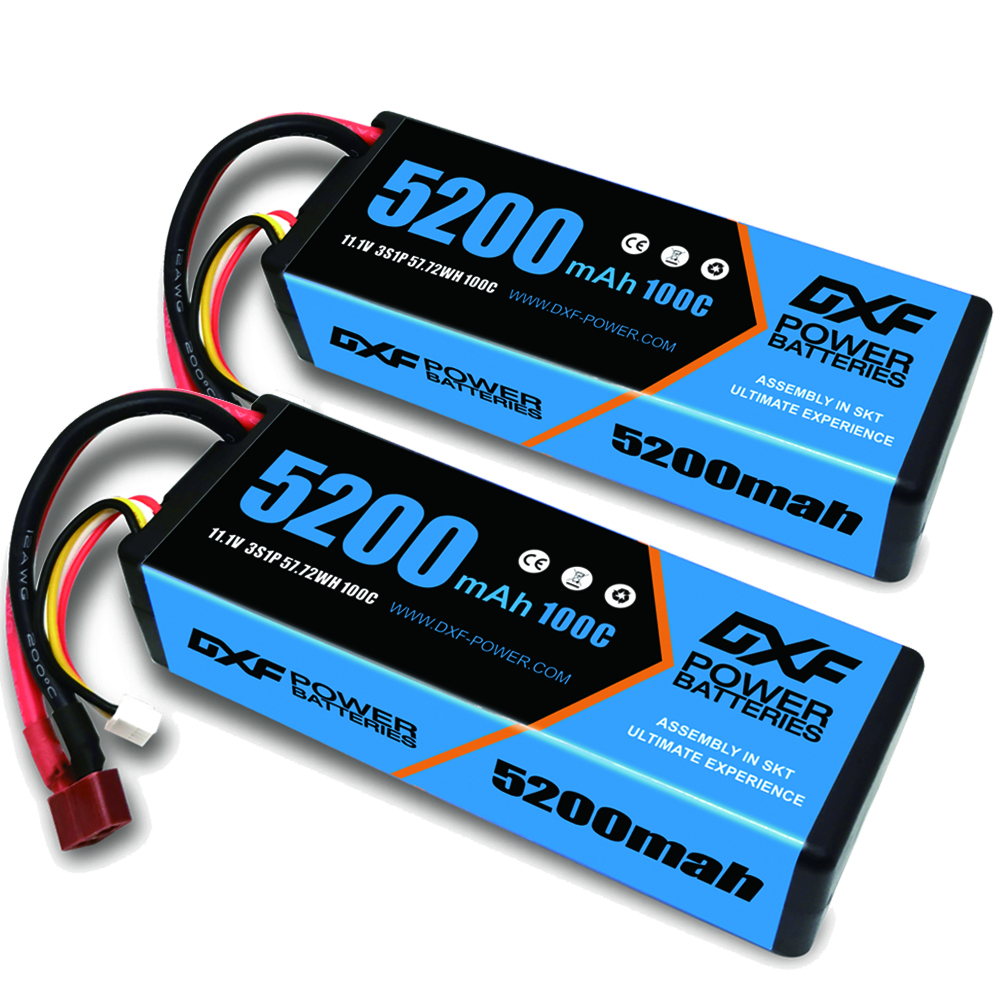 Q: How long you can get the goods?
A: Generally speaking, shipping from China to European countries can be signed in about 15-25 days. CIS countries are about 20-30 days, North American countries are about 10-15 days, Asian countries are about 15-30 days, Middle East countries are about 30-45 days, Australian countries are about 10-25 days, South America Country about 30-60 daysquestion above.
Q: Does the package be shipped from sea or air?
A: Generally speaking, we ship in the form of international parcels, and these transportation methods are generally air transportation.
Q: Why my package go so slowly?
A: There is a big difference between international parcels and domestic parcels. He is subject to many factors, such as weather, air control, postal strikes, customs strict inspection of items, security inspections, etc. So you feel that your package is abnormal, please contact customer service as soon as possible, and customer service will definitely find a satisfactory answer for you. In addition, from October to December each year is a very busy season for parcels, so there will be some delays in parcels.
A: 1. Before using it, please full charge it with specific lipo balance charger;
2. Charge lipo battery no more than 4.20V per cell. As for battery pack in series, Please choose balance charging mode or charge each cell respectively;
3. Charging temperature must range in 15-35 Celsius, reverse charging is prohibited;
4. The voltage difference between any two cells should be in 0.03V, or charge is advised to balance the voltages beforeusage;
5. Please make sure the cut-off voltage is not lower than 3.4V, we highly recommend not lower than 3.6V;
6. Never discharge battery with current over the designed maximum continuous discharging current. After over current discharge, the performance will be deteriorated and cycle life will be shortened, causing overheating and even welling ,breakage, internal short-circuited etc;
7. If the surface temperature exceeds 65 Celsius while functioning, the battery should be suspended using until it cool down to ambient temperature naturally. Higher temperature may result int battery swelling and performance;
8. Do regularly charge discharge for maintenance(about 1-3 times every 3 months),battery must stored at about 3.85v/cell;
9. Do store battery at a place with low-humidity and free from corrosive gas within the temperature ranged from -20 Celsius to +40 Celsius ;
10. Under any circumstances dis-assembly of battery is prohibited.
ABOUT DXF
DXF LiPo cells are produced in fully automated machines that control the quality of production at every step.This is our new Lipo for stock racing. It has supreme power. This is the best power you can get for serious stock racing,It features high power 5mm sockets for minimized resistance and a new, black hard case with revised stylish Stickers.Of course, this Lipo also meets the requirements of any modified racing. You will have power as evenly as never before.
We promise 180days warranty for each customer, If you receive a battery that looks not so good, feel free to contact us via our customer service email in the first time, we will offer you a proper solution.
Payment & Security
Your payment information is processed securely. We do not store credit card details nor have access to your credit card information.